What's your plan to reach the site and sound generation in your stores?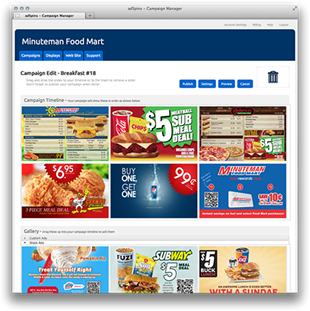 In the C-Store market you have a small window of opportunity to catch and influence your customers. The NACS (
The Association for Convenience & Fuel Retailing)
reports that 49% of shoppers who bought candy said it was unplanned. Now imagine if you could apply that metric to other products in your stores.
National Brands and Food Service Distributors
We can help you develop national, regional or local marketing campaigns to your customer's stores. Forget about all the cost in printers, sign companies and parcel carriers to get your message out. With Adspins you can push your message out the same day without any interaction from your partner stores. You will be able to publish campaigns from the comfort of your office or we can even do it for you! Give us a call today and let us bounce around some ideas with you!
Multi-Store & Franchise Operators
If you're managing your own locations or servicing franchisees then you know how challenging, time consuming and expensive it is to run promotional programs or specials. Our solution addresses all three of these problems by allowing you to push out campaigns the same day for a fraction of the cost of other methods. Best of all you can be proactive to aging inventories at even the store level if needed.